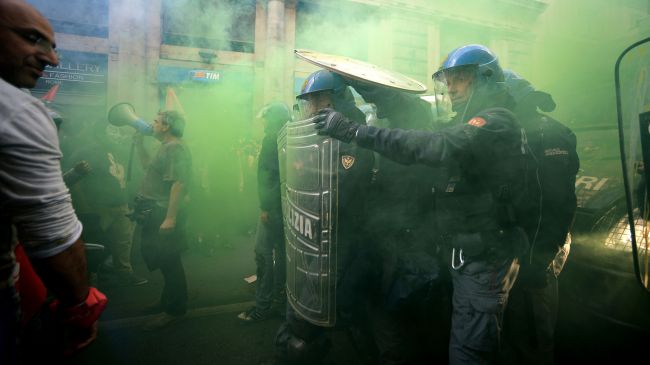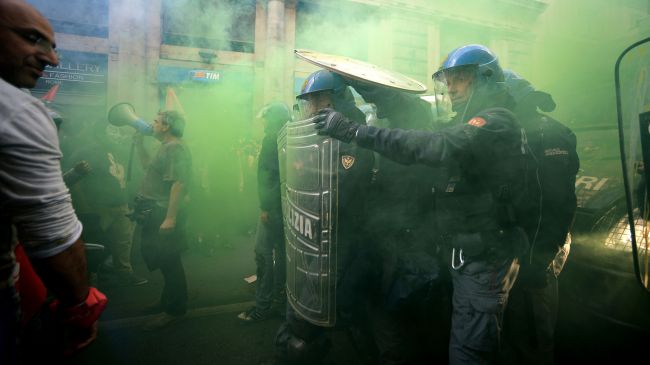 Italian police have used tear gas and batons in clashes with demonstrators who took to the streets in the capital city of Rome to protest against the government's policies on housing rights.
The clashes took place on Thursday as hundreds of angry protesters marched near the parliament and government buildings in Rome, throwing eggs, fruits, and firecrackers at police and trying to tip over a riot van.
Six people including four policemen were injured in the clashes, with several protesters being hauled off by police in riot gear.
The rallies were staged by Italians who claimed their right to housing and protested against eviction policies targeting those who fall behind on their rent.
Demonstrators also called on local authorities to allocate more funds to help needy tenants.
Migrants and refugees joined the rally, which is the latest in demonstrations against the government's economic policies.
This, as Minister for Infrastructure and Transport Maurizio Lupi said 140 million euros (USD 190 million) would be released to help tenants struggling with difficulty.
Italy started to experience recession after its economy contracted by 0.2 percent in the third quarter of 2011 and by 0.7 percent in the fourth quarter of the same year.
Over the past decade, Italy has been the slowest growing economy in the eurozone as tough austerity measures, spending cuts, and pension changes have stirred serious concerns for many people already grappling with the European country's ailing economy.
Italians have been staging protests against high unemployment, economic adversity, and hardship over a series of government-imposed austerity packages in the recent past.