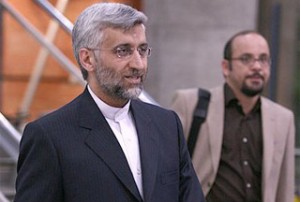 The top Iranian nuclear negotiator has met with a number of high-ranking religious scholars to brief them over his recent talks with the representatives of the P5+1 Group.
Saeed Jalili made the visit after returning from a trip to Geneva, where he had represented Iran in the first round of the October nuclear talks with the so-called P5+1 group (permanent members of the UN Security Council plus Germany).
The seven-and-a-half hour summit, described as productive by all sides, revolved around concerns shared by Iran and the West over global issues.
"Our negotiating delegation entered the talks with strength, initiative and common sense, based on the Iranian package of proposals," IRIB quoted Jalili as saying in the meetings.
The report also states that the Grand Shia Ayatollahs (guiding scholars) also welcomed "the process of the Geneva talks and wished for the success of the negotiating delegation of the Islamic Republic of Iran."