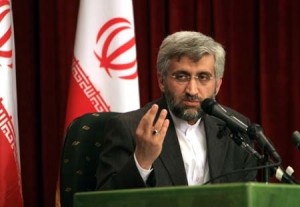 Iran's chief negotiator says Tehran has a positive approach towards its upcoming negotiations with the West as he sets off for Geneva to represent Iran in the meeting.
"We will enter talks with major world powers with a positive and strategic approach based on goodwill and long-term bilateral cooperation," Saeed Jalili told reporters on Wednesday ahead of his departure for one-day talks.
After Iran presented its latest package of proposals to the five permanent members of the UN Security Council — Russia, China, Britain, France and the US — plus Germany (P5+1), Tehran and the six major powers agreed to hold wide-ranging discussions on global issues as well as Iran's rifts with some Western countries on October 1.
"We think that Iran's power and capabilities will be an opportunity for stability, security and expansion of cooperation in line with peace and justice for progress of all nations," said Jalili, who is Secretary of Iran's Supreme National Security Council.
"We think that Iran's national, regional and international potential will prepare appropriate grounds for removing common concerns of the international community [about Iran's nuclear program,]" he added.
The chief Iranian nuclear negotiator described the Geneva meeting as an 'opportunity and a test' for the world powers.
"The use of this opportunity will depend on the approach of the negotiation sides to Iran," he said.
Ahead of talks with the West, Iranian lawmakers issued a statement on Tuesday warning that they would make new decisions if the six world powers repeat their 'past mistakes' regarding Iran's nuclear program and cause failure in the upcoming talks.
In a Monday meeting with Swedish Foreign Minister Carl Bildt, whose country holds the EU's rotating presidency, Iranian Foreign Minister Manouchehr Mottaki reiterated that Tehran would never give up its legitimate rights on the use of nuclear technology for peaceful purposes amid persistent pressure from Western interests and baseless accusations of a military agenda.
Iran enters the Geneva-hosted talks having said that major powers particularly the US, Britain and France have breached international regulations and continue to deceive the world nations by violating the Non-Proliferation Treaty articles during the past 40 years.