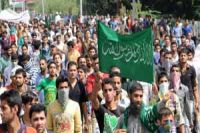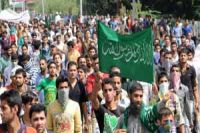 Braving cold weather, thousands of people have held a demonstration in the Indian-administrated Kashmir in protest against the US and Zionist regime atrocities.
Protesters have taken to the streets in the Magam area of the central Jammu and Kashmir Budgam district.
Protesters have also condemned the killings of Shia Muslims in Pakistan and called for unity among Muslims.
The Magam area has been rocked with protests after religious inscription was found on foreign footwear in November. The protests later spread to other parts of Kashmir and forced the authorities to impose a curfew for seven days.
On Friday, people staged rallies in Karachi in Pakistan to express outrage at the killings of Shia Muslims in the country.
According to Human Rights Watch, the Pakistani government has failed to stop violence against Shias who account for around 20 percent of the country's 167-million-strong population.
Pro-Taliban militants have been involved in a violent campaign against Shia Muslims in Pakistan over the past years.