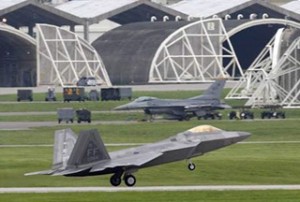 The Japanese government will decide on the new site for a controversial US military base by November, states an article in one of the country's newspapers.
Premier Yukio Hatoyama had announced earlier that the question as to whether or not the US base would be relocated on the southern island of Okinawa would be decided by the end of May.
The decision for postponement was made at a meeting of cabinet ministers on Friday, unnamed government officials told the Sankei Shimbun newspaper on Saturday.
According to a 2006 agreement between Tokyo and Washington, it was planned to move the US Futenma airbase from a crowded city to a less populous site on Okinawa. However, the Japanese prime minister had vowed during his election campaign to move the base off the island altogether.
With his self-imposed end of the May deadline, Hatoyama reneged on his campaign vote promise, saying it would be impossible to remove the base.
This is while support for his government had fallen below 20 percent for the first time on Friday, a poll published by Jiji news agency showed.
Tens of thousands of people on Okinawa rallied last month to demand the premier keep his promise and activists plan to form a human chain around the airbase on Sunday.