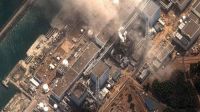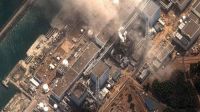 Japan is to start the process of switching off its last working nuclear reactor with no firm date set for the potential restart of the reactor.
According to AFP, Kansai Electric Power will gradually take offline the No. 4 reactor at its Oi nuclear plant in Fukui prefecture in western Japan.
The move will leave the world's third largest economy without nuclear power for the third time in over 40 years. The Oi nuclear plant is the last of Japan's 50 nuclear power plants that is still running.
The nuclear industry came to a virtual halt following the March 2011 crisis.
A destructive 9-magnitude earthquake and an ensuing tsunami struck Japan's northern coasts in March 2011, setting off a nuclear crisis by knocking out power to the cooling systems of the reactors at the Fukushima Daiichi plant, causing radioactive leaks.
Last month, Japan's nuclear regulator said the impact of the radiation-contaminated water leaks at the Fukushima Daiichi plant is not known and it needs to be monitored more closely.
Chairman of the Nuclear Regulation Authority (NRA) Shunichi Tanaka had said that Fukushima plant leaks cannot be stopped instantly, warning that the level of monitoring is not enough.