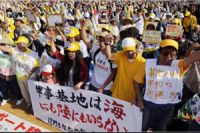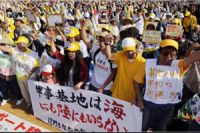 Hundreds of people have staged a protest rally in the Japanese capital, Tokyo, to voice their anger at a new US base being built off Henoko Bay in Okinawa Prefecture.
According to Press TV, the Japanese demonstrators took to the streets in Tokyo and carried placards that read "Demolish the Bases" and "Against the Japan-US new military alliance."
The protesters accused the government of Prime Minister Shinzo Abe of attempting to remilitarize the country at the expense of the Okinawa citizens. They also slammed Tokyo for turning a cold shoulder to their calls against the construction of the new American base.
Washington and Tokyo agreed in 1996 to relocate the Futenma air base from a more congested part of Okinawa to the southern city of Nago, but opposition from local people and environmental groups has prevented construction in the small town of nearly 60,000 people.
According to the relocation plans, the Futenma air base would be moved from Ginowan city to the thinly populated Henoko district in Nago, due to concerns over high levels of aircraft noise, accidents in civilian areas and rampant crimes, such as rape, by the US soldiers stationed at the base.