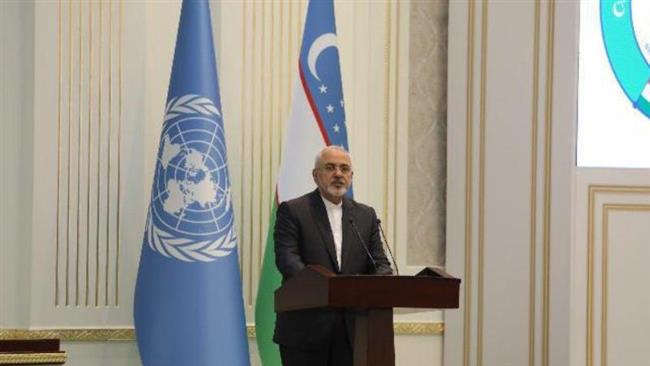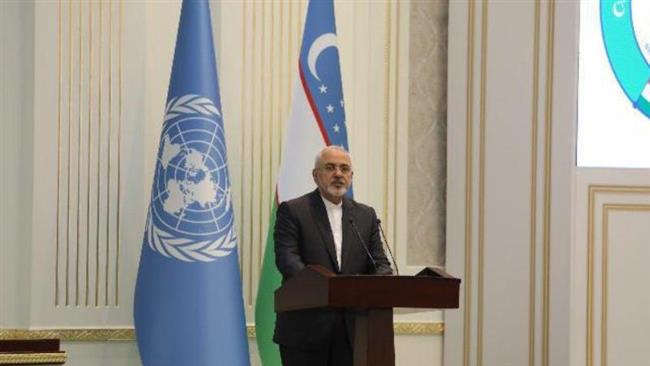 Iran says it has practically proved its commitment to nuclear non-proliferation by signing a nuclear deal with six world powers and remaining fully committed to the terms of the landmark pact.
Foreign Minister Mohammad Javad Zarif made the remarks on Friday in an address to the International Conference on Security and Sustainable Development in Central Asia in the Uzbek city of Samarkand.
By clinching the nuclear deal and fulfilling all our commitments under the Joint Comprehensive Plan of Action (JCPOA), Iran proved in action proved its compliance with the principle of non-proliferation and nuclear disarmament, Zarif said.
The top Iranian diplomat further described the regime in Israel as an obstacle to the establishment of a nuclear-free Middle East.
Israel is estimated to have 200 to 400 nuclear warheads in its arsenal. The regime, however, refuses to either accept or deny having the weapons. It has also evaded signing the Non-Proliferation Treaty (NPT).
Since 1974, Iran has seriously followed upon the proposal for the Middle East to become a Nuclear-Weapon-Free and WMD-Free Zone, but its efforts have failed to yield results due to Israel's pursuit of nuclear arms with the US support, Zarif noted.
'Dollar-for-security deal'
The Iranian top diplomat further lambasted regional and extra-regional efforts to commercialize security.
Today, you cannot buy security with hundreds of billions of dollars and ship it to the country, he asserted.
Commercialization of security, he said, is a new topic added by some international and trans-regional powers to political terms, and unfortunately they have good clients in this dollar-for-security deal.
Fighting Takfirism
The foreign minister also proposed that fighting the "anti-Islam" Takfiri movement needed all-inclusive and multilateral cooperation and interaction among regional countries, besides studying the root causes of the phenomenon.