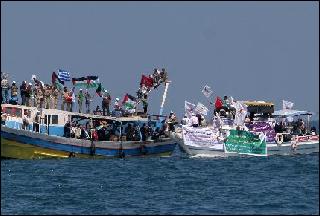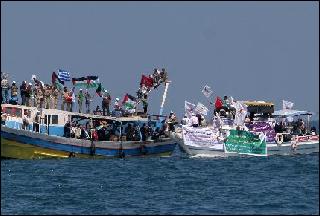 A coalition of pro-Palestinian international Jewish organizations will dispatch an aid flotilla to the Gaza Strip in a fresh bid to break the inhumane Israeli-imposed blockade on the impoverished territory.
The "Jewish Boat to Gaza" is set to sail towards Gaza next month from an undisclosed location carrying humanitarian aid and passengers from Britain, Germany and the United States.
The coalition has said that at least one of passengers onboard the flotilla is a Holocaust survivor.
Glyn Secker who is a British Jew and a longtime activist will lead the flotilla as captain.
American Jews for a Just Peace announced last week that it will serve as the US coordinator for the Jewish boat. The other groups that are party to the flotilla include "Juische Stimme" ("Jewish Voice" for a Just Peace in the Near East) and Jews for Justice for Palestinians, which is a British organization.
The announcement said: "Organizers are requesting that the Israeli "regime", the British government, the German government and the US government guarantee safe passage for the boat, its passengers and cargo".
The cargo of the boat includes schoolbags and books, donated by German schoolchildren; musical instruments and art materials for the Gaza Community Mental Health Program; nets and tackle for fishermen; and medicines and small medical equipment.
The announcement has also set out the principles of the mission as follow: "To protest against and challenge the blockade of Gaza"; "to protest against Israel's continuing occupation and construction of Jewish settlement in Palestinian lands, and the Israeli "regime's" self-evident intention of annexing much of the occupied lands"; and "to make clear that the current policies of Israel are not representative of all Jews and that there are thousands of us who wish to say 'Not in our name.' "