Iraq
Middle East
"Joker Revolutionaries" in Iraq Fabricating Violence Scene in Iraq
Footage leaked to the social media shows the so-called "Joker Revolutionaries" in Iraq are producing videos to later claim violence and death in Baghdad protests to blame the Iraqi government.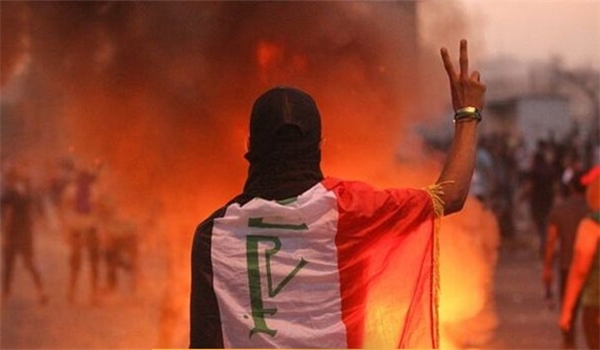 Emerging video displays a group of protestors in Baghdad's al-Tahrir square, the main place of gatherings and protest rallies, who are producing a fabricated video before the eyes of people to accuse the Iraqi security forces of violence against the ralliers.
The White Helmets in Syria who collaborated with Tahrir al-Sham al-Hay'at (the Levant Liberation Board or the Al-Nusra Front) terrorists had first produced such fake videos under false-flag chemical operations in Idlib in a bid to accuse the Syrian Army of orchestrating the attack.
Iraqis angry at the government's slow pace of reforms ramped up their protests, sealing the streets of capital Baghdad with burning tyres and threatening further escalation unless their demands are met.
Protesters blocked roads in Iraq's capital and in the holy city of Najaf a day before their deadline to the government on making progress on reform pledges expires.
The Iraqi protesters have given the government one week to announce its reform measures.