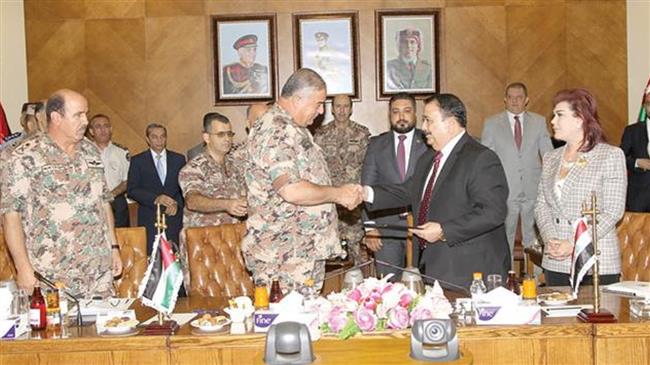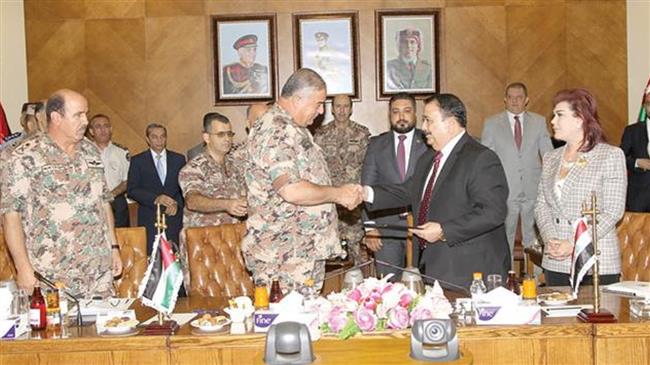 Jordan and Iraq have signed a military and security cooperation agreement after years of stormy ties which saw Daesh terrorists gain control of their joint border and cut vital trade to a bare minimum. 
Jordan's Chairman of the Joint Chiefs of Staff Lt. General Mahmoud Abdul Halim Freihat and Iraqi Defense Minister Irfan Mahmoud Al Hayali oversaw the signing of the agreement in Amman Sunday, Petra news agency reported.
"The agreement aims to exchange expertise and information on border protection, as well as improving intelligence capabilities and combating terrorism in all its forms," the report said.
The two sides also agreed to increase joint military exercises, boost research and technology development and hold joint courses in security and military fields.
The vast desert Province of Anbar on the 180 km border with Jordan became a historic hotbed of the Takfiri militancy sparked by the 2003 US invasion of Iraq.
Before that Iraq was the kingdom's main export market, accounting for almost a fifth of Jordan's exports or about $1.2 billion a year, according to the International Monetary Fund.
Last August, Jordan opened its main border crossing with Iraq for the first time since 2015 after Iraqi forces gained control of the main highway to Baghdad.
The Tureibil post is crossed by the 550 km highway to Baghdad, connecting Iraq's Basra port in the south to Jordan, where the Red Sea port of Aqaba has long served as a gateway for Iraqi imports coming from Europe.
Although the highway has been secured after driving out Daesh, the threat of hit-and-run attacks on convoys and the army are ever present and there have been several attacks near al-Rutba town, the last town before the border with Jordan.
Iraqi authorities have reportedly awarded a contract to a US security company that would employ a local force to secure the highway.
History of mistakes
Jordan's former prime minister Hani al-Mulki visited Baghdad early last year to revive an oil pipeline project running from Basra to Aqaba.
Amman has hoped that the opening of export routes would save its debt-ridden economy which has been badly hit by prolonged conflicts in neighboring Syria and Iraq.
The kingdom has been rocked by its worst protests in years over a controversial tax system backed by the IMF from which the country secured a $723-million loan in 2016.
Jordan's King Abdullah II swore in a new government in June after Mulki stepped down under pressure from protesters who blamed his government for worsening poverty and unemployment.
The kingdom, however, has a rocky road ahead for a full normalization with Iraq.
Many Iraqis hold a dim view of Jordan, believing it did not do enough to stem the flow of militants entering Iraq and seizing a third of the country. They are also unhappy with Jordan having given sanctuary to Saddam Hussein's daughters.
King Abdullah was the first Arab leader to claim a "Shia Crescent" in the making in late 2004, meaning there was a strategic arc running from Iran through Iraq and Syria to Lebanon.
The allegation riled many Iraqi leaders and those in neighboring countries, who believed the remarks played a second fiddle to a campaign to stoke up sectarian strife in the region.
Jordan had its best special ties with Iraq under former dictator Saddam Hussein who provided the kingdom with cheap oil in return for access to Aqaba which became a lifeline for Iraq's oil revenues as the war with Iran rendered shipping through the Persian Gulf impossible.