Palestine
Jordanian aid convoy heads to Gaza next month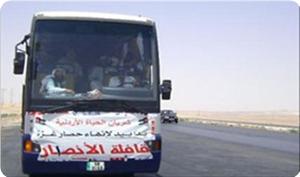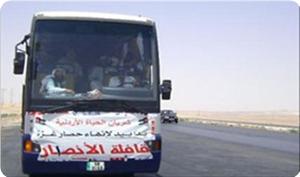 The Jordanian Lifeline Committee started preparations for Ansar 3 aid convoy which is planned to travel to Gaza in September.
"Ansar 3 convoy will leave from Jordan to Gaza in the second half of next September," Wael Al-Sakka, Jordanian Lifeline Committee Chairman and spokesperson said in a press release on Sunday.
"The convoy will be launched from Amman to Aqaba, to Nuweiba Egyptian port, and then to the Rafah crossing through El-Arish in Egypt, aiming to support the Palestinian people in Gaza and development projects to reduce unemployment rates in the Strip," he added.
"The convoy will collect donations during the holy month of Ramadan for this purpose," he stated, noting that "the aid will be used to finance small projects in order to reduce unemployment rate in the Gaza Strip."
Al-Sakka expected that 100 activists will participate in this convey that will stay in the Gaza Strip for a week.
Meanwhile, the Jordanian Islamic Action Front (IAF) party has strongly denounced the Israeli attacks on Al-Aqsa mosque during the holy month of Ramadan, calling on the Jordanian government to act to bridle the almost daily incursions to the holy compound.
The IAF official in charge of the Palestinian file Murad Adayleh held the Jordanian government responsible for protecting the holy sites, calling on it to take a firm position towards the recent violations.
He called on the government to "use all necessary means to stop the Israeli violations that took place at the behest of the extremist right-wing government", which he said was trying to demolish Al-Aqsa mosque in order to establish the alleged Temple on its ruins.
The Jordanian Islamic party asked Arab and Muslim governments to "condemn the recent attacks and to act to stop them," pointing out that "the attacks violate the international laws and conventions". It also called on the Arab League and the Organization of Islamic Cooperation and human rights organizations "to intervene to stop the recent serious assaults."