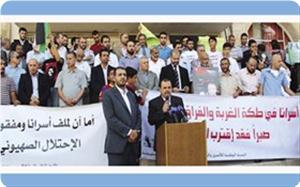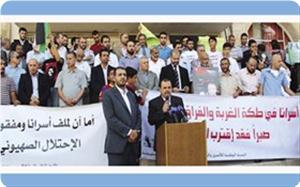 The Jordanian prisoners in Israeli prisons declared that they will go on hunger strike in early May to draw attention to their cause and to achieve their demands.
The 25 Jordanian prisoners in occupation prisoners declared, in a leaked letter read by the liberated prisoner Anas Abu Khudair at a press conference held at the Professional Association Complex in Amman, that they are determined to "demand their rights for themselves using their only weapon in Israeli jails, namely their empty stomachs."
The Jordanian prisoners called on the Jordanian government to intervene urgently to secure monthly family visits and to provide a medical team to check on their health situation.
For his part, the chairman for the Jordanian agronomists syndicate called during the press conference for an immediate official act regarding the prisoners' issue, stressing that Jordan has important papers to pressure the Israeli occupation for the release of the prisoners.
He denounced the Jordanian government's negative position towards the prisoners' case, stressing that they sacrificed their lives for Jordan and Palestine.