Iran
Judiciary Chief: Iran Standing Firm against Security Threats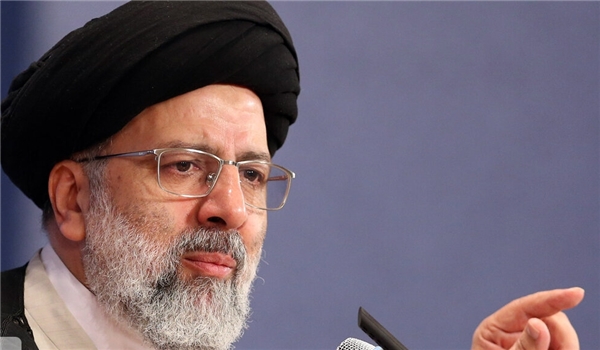 Iran's Judiciary Chief Ebrahim Rayeesi said the Islamic Republic will not tolerate any move which threatens its security despite showing Islamic compassion towards minor crimes.
"Certainly, Islamic compassion should be shown towards all walks of society, but none of those who feel compassion and have positive feeling about the Islamic Republic, the people and security officials may allow those who want to threaten and attack the people's life, properties and livelihood to make the slightest move," Rayeesi said, addressing the judiciary officials in Tehran on Monday.
Supreme Leader of the Islamic Ummah Imam Seyed Ali Khamenei had earlier this month ordered state bodies, including the Supreme National Security Council (SNSC), to treat the families of all those killed as well as those wounded or arrested in the recent riots in the country with Islamic kindness and compassion.
The secretariat of the Supreme National Security Council announced that in response to a report by SNSC Secretary Ali Shamkhani on how to deal with detained suspects and those killed and wounded in the recent incidents in the country, the Leader has approved of the proposals raised by the top security body.
Ayatollah Khamenei has also ordered the SNSC to take immediate action in compliance with its proposals, and stressed that "as regards suspects in each (of the stated) groups, action should be taken in a way that is closer to Islamic clemency", the secretariat said.
The report was compiled by the SNSC after the Iranian Supreme Leader ordered the security body immediately after the recent protests to launch a deep study and investigation into the root causes of the unrests and the condition of those who have lost their lives and their families.
The SNSC had proposed in the report to the Leader that those who had lost their lives without even being involved or being part of the recent protests and riots be classified as "martyrs" and their families receive ransom and continued support from the state Foundation for Martyrs and Devotees.
Also, as proposed by the SNSC and approved by the Leader, "those victims of the recent incidents who have been killed in armed clashes with security forces" will be subject of precise studies and thorough investigations to draw a line between those that had embarked on premeditated criminal action and their families to deal with such families with kindness and mercy.
"Even as regards treatment of a third group of families that includes those that are suspected of outlawed action, the Supreme Leader has ordered care and Islamic kindness in dealing with such families," the SNSC statement said.
The SNSC said based on the Leader's strong orders, action has been taken since a while ago to work on the case of all those killed or wounded in the recent unrests in each province.