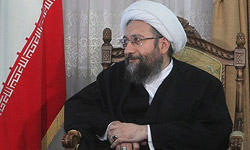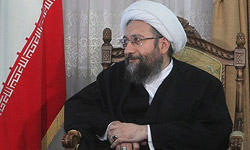 Iran's Judiciary Chief Ayatollah Sadeq Amoli Larijani lambasted the UN for ratifying a resolution on the human rights conditions in Iran, and reminded that the resolution was supported by the western states which have closed their eyes to the crimes committed against the Bahraini people by al-Khalifa regime.
"The United Nations' double-standard behavior towards the Islamic Republic of Iran has become a redundant action for all of us, and now certain countries which accuse us (of violating human rights) are themselves the worst violators of human rights," Amoli Larijani said in Tehran on Wednesday.
"Americans speak of human rights, while they support those states which have not held any election and have kept mum about a country like Bahrain where the rights of its nation have been trampled for a long time and they continue supporting them (the Bahraini rulers) since they have a military base in that country," he added.
Anti-government protesters have been holding peaceful demonstrations across Bahrain since mid-February 2011, calling for an end to the Al Khalifa dynasty's over-40-year rule.
Violence against the defenseless people escalated after a Saudi-led conglomerate of police, security and military forces from the Persian Gulf Cooperation Council (PGCC) member states – Saudi Arabia, Kuwait, the United Arab Emirates, Oman and Qatar – were dispatched to the tiny Persian Gulf kingdom on March 13, 2011, to help Manama crack down on peaceful protestors.
So far, tens of protesters have been killed, hundreds have gone missing and thousands of others have been injured.
Police clampdown on protesters continues daily. Authorities have tried to stop organized protests by opposition parties over the past month by refusing to license them and using tear gas on those who turn up.
The opposition coalition wants full powers for the elected parliament and a cabinet fully answerable to parliament.