Iran
Middle East
Palestine
Judiciary Spokesman: Mossad Spies Sentenced to Prison
Iranian Judiciary Spokesman Gholamhossein Esmayeeli said that two individuals who collaborated with the Israeli spy agency, Mossad, were sentenced to over 10 years of prison.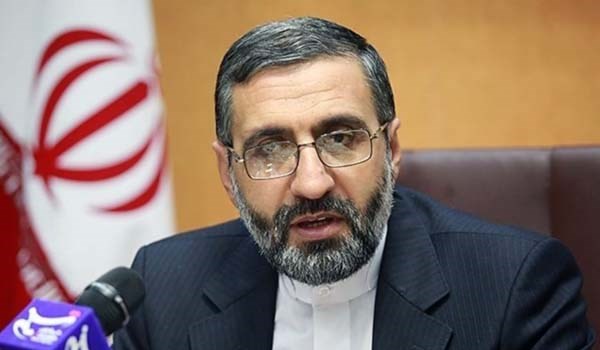 "Ali Johari, a spy of the Zionists with links to Mossad, had extensive contacts in different countries, had even taken action to receive the citizenship of these states and his business activity focused on building tunnels and construction jobs was sentenced to 10 years in prison for spying and 2 (additional) years for the spending and moves he has done," Esmayeeli told reporters in a press conference in Tehran on Tuesday.
He also referred to the case of Anousheh Ashouri, an Iranian-British national, and said, "She was linked to the Mossad spying service and transmitted lots of information from the country and she was sentenced to 10 years in prison for spying, 2 (additional) years for her spending, and returning 33,000 euros that has been found with her."
Iran has in recent years discovered several spying networks working for foreign states.
Secretary of Iran's Supreme National Security Council (SNSC) Ali Shamkhani declared in June that the country had discovered and destroyed an extensive cyber network launched by the US Central Intelligence Agency (CIA) to spy on the country and a number of other states.
"It is interesting to know that a while ago, the Iranian intelligence apparatus discovered and cracked down on one of the most complicated cyber networks of the CIA which was used for cyber spying and was an important part of the CIA's operational capacities in the countries targeted by the US," Shamkhani said
He added that given the cooperation between Iran and a large number of world states within the framework of counter-espionage at international level, Tehran had provided its partners with information about the CIA cyber network, which also led to the capture of the members of the network and its eventual annihilation in those countries.
Shamkhani said evidence was available on the operation of the CIA project, adding that parts of the case had also been revealed by the CIA before.
Also in June, a former employee of the Iranian Defense Ministry's Aerospace Industries Organization was executed for carrying out espionage operations for the White House and the US spy agency (CIA).
The Judiciary Organization of the Armed Forces reported on Saturday Jalal Hajizavar was executed at Rajayee Shahr prison in Karaj in Western Tehran after being convicted by a military court.
He was dismissed nine years ago and had explicitly confessed that he had collaborated with the CIA and spied for the United States in return for money, it added.
According to the report, documents and spying equipment were discovered at his home.
It emphasized that all legal procedures had been observed during investigations into Hajizavar's case while his spouse also received a 15-year prison term for taking part in espionage activities.