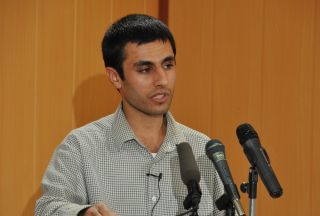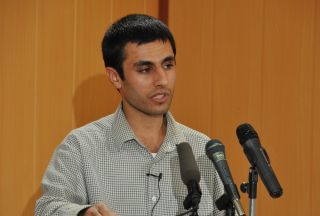 Iran says it has executed ringleader of the Pakistan-based Jundallah terrorist group Abdolmalek Rigi arrested while preparing to launch a new round of attacks on the country.
Rigi was hanged on Sunday morning in Tehran's Evin prison upon a ruling issued by the country's Islamic Revolution Court, Fars news agency reported.
The Jundallah ringleader was charged with 79 counts of various crimes including armed robbery, bombing operations in public places, armed attacks on the army, police personnel, and ordinary civilians, assassination attempts, disrupting regional stability, kidnapping and murder.
Rigi's execution comes as Iranian security forces arrested him on February 23 in eastern Iran while he was on a flight from Dubai to Kyrgyzstan.
Following his arrest, Iranian Intelligence Minister Heidar Moslehi said that Rigi was at an American base 24 hours before his capture, and that the United States had forged an Afghan passport for him.
Rigi, accompanied by his lawyer, appeared in court for the first time on May 27 in the presence of the families of the victims killed by his terrorist group.
In the court session, Iranian prosecutors demanded the death penalty for him.
Following the demand, Rigi claimed responsibility for the crimes committed by his terrorist group, acknowledging that his acts were in violation of the Islamic and human regulations.
After pleading guilty to all charges against him, the Jundallah ringleader went on to ask for forgiveness and made an appeal against the decision for his execution.
Head of Iran's Judiciary Ayatollah Sadeq Larijani, however, rejected the appeal and ordered his execution.
The terrorist leader had earlier confessed to having links with NATO officials in Afghanistan and foreign spy agencies like the CIA and Mossad.
Jundallah, which is based in Pakistan, has carried out numerous bombings, assassination attempts, and terrorist attacks in Iran. One of the cited attacks left 40 people dead, including several senior commanders of the Islamic Revolution Guard Corps, in Iran's southeastern city of Pishin.