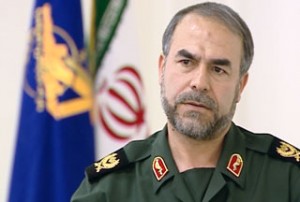 A senior Iranian military official says the terrorist group Jundallah will receive a "crushing response" for its attack in southeastern Iran.
The Pakistan-based terror group has claimed responsibility for a bombing that killed at least 41 people, including a number of senior commanders of the Islamic Revolution Guards Corps, in Sistan-Baluchestan Province on Sunday.
"Iran will give a crushing response to Abdulmalek Rigi's terrorist group and its supporters soon," Brig. Gen. Yadollah Javani, the director of the Political Bureau of the IRGC, said on Tuesday.
"Terror groups, like Abdulmalek Rigi's, which carry out attacks in Iran are supported by foreign countries because they don't have any popular base in the country," the Mehr News Agency quoted Javani as saying.
"The [Jundallah] terror group is currently based in our friendly and brotherly country Pakistan and gets financial, intelligence, and political support from the West, especially from the US and the UK, and some countries in the [Middle East] region," the IRGC official stated.