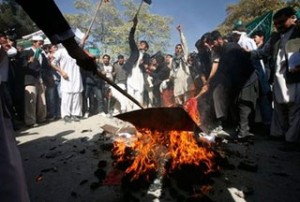 Hundreds of Afghan university students have held rallies in protest against US-led raid in which civilians were killed as a top NATO commander admitted the possibility of the incident.
The protestors took to the streets in the eastern town of Jalalabad on Wednesday shouting "Death to America".
The rally was staged to denounce the US forces' operation in Laghman province, where 15 civilians were killed on Monday.
"The initial reports are confusing like always in this situation. In the confusion there was obviously a fire-fight and we are investigating," said Lieutenant General David Rodriguez.
"There could possibly have been some civilians killed," he added.
Afghan President Hamid Karzai has ordered a thorough probe into the killings.
The increasing number of civilian casualties has surged anger with 113,000 NATO and US forces in the country.
The International Committee of the Red Cross says the number of civilian deaths in southern Afghanistan have increased by about 20 percent this year.