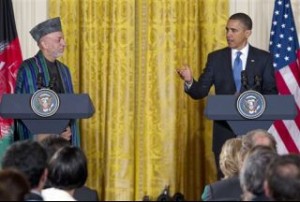 The Afghan president says Kabul will take control over US-run prisons in the country, adding that it also has the potential to take over Afghanistan's political and security affairs.
Hamid Karzai made the comments in a meeting with US Secretary of State Hillary Clinton on Thursday.
The Afghan president, who wrapped up a four-day visit to Washington, said that detention centers in US-led forces' military bases will be transferred to Afghan authorities.
"We have agreed that there will be a transition of detention centers to the Afghan authority in January of next year, the first of January next year," Karzai said.
While in Washington, Karzai constantly called on the United States to respect Afghanistan's sovereignty. He said that Afghan authorities were preparing the ground to provide security for "the entire country."
"We are planning in Afghanistan to prepare ourselves, in the form of the army and police and other institutions of the Afghan state, to be able to provide for the security of the Afghan people in parts of the country where we can't right now, in the next two to three years, and to expand that, extend that, to the entire country by 2014, by the time my term in office in completed," he said.
In his meeting with US President Barack Obama on Wednesday, Karzai condemned the loss of civilian lives in US-led military operations.