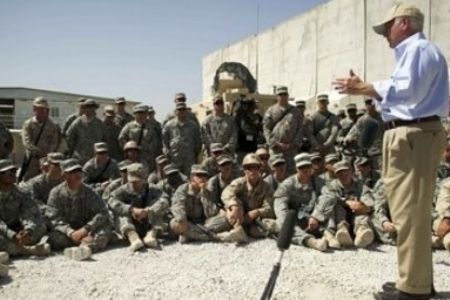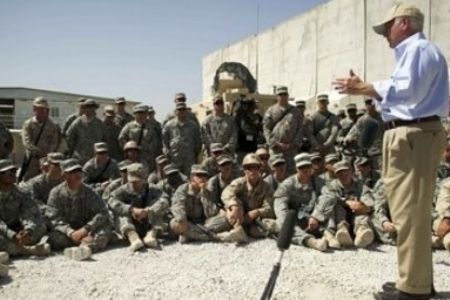 Afghan President Hamid Karzai has expressed opposition to visiting US Secretary of Defense Robert Gates over a range of issues regarding the Afghan war.
Gates arrived in Afghanistan's capital Kabul on another surprise visit to the country on Thursday.
During a joint conference with Gates in Kabul, Karzai hit back at West's allegations that he has undermined attempts to clamp down on corruption in the war-ravaged country.
"The American public sees the press they see and not the reality of Afghanistan. Corruption has to be fought correctly, not in violation of the rights of the people," Karzai said.
The office of President Karzai has recently said that such allegations are aimed at diverting public attention from the greater priorities such as the Afghan war.
Karzai strongly condemned US-led airstrikes that resulted in several civilian causalities over the past 24 hours.
Ten civilians were killed in a NATO airstrike in the northern Takhar province on Thursday. The victims were reportedly election campaign workers.
Earlier on Wednesday, six civilians were killed and several others injured in another aerial attack in the southern province of Kandahar.
However, Gates backed NATO's account on Thursday that alliance forces had only hit militants.
Experts say the conference highlighted tensions between President Karzai and the US.
According to UN estimates, some 1,300 civilians have been killed in the war-torn country so far this year — with foreign troops responsible for a quarter of the deaths.
President Karzai has recently explained why the war against the Taliban has not made any progress.
"The lack of progress in the war on terror has two factors; one, the terror sanctuaries have not been addressed, and second, because civilians were killed during this war," Karzai told US congressmen last Thursday.
Gates on Friday visited US troops in the southern Afghan province of Kandahar.
The pentagon chief has warned troops that there will be more tough days ahead as they fight to oust Taliban militants.
Since the 2001 invasion of Afghanistan, this year has so far been the bloodiest one for the US forces in the country.
At least 326 American soldiers have lost their lives in the country so far this year.