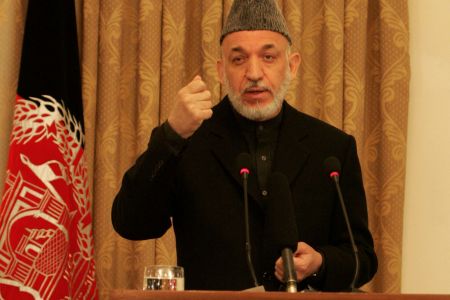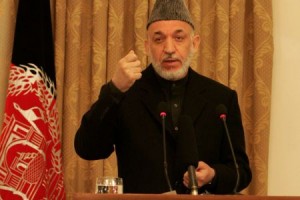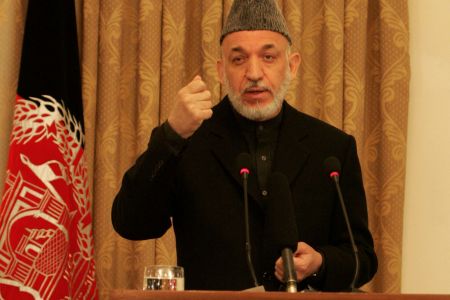 President Hamid Karzai has urged the US-led forces to refrain from bombing Afghan civilians in the name of the so-called war on terrorism.
Karzai said on Monday that Afghan civilians have been killed on a daily basis and are the victims of terrorism.
He called on NATO to target the hiding places of terrorists instead of launching attacks on civilian areas.
Karzai also underlined the Afghan people's patience and sacrifice during the United States' so-called "war on terror."
Hundreds of Afghan civilians have lost their lives in US-led airstrikes and ground operations in various parts of Afghanistan over the past few months.
The frequent attacks have resulted in growing anti-American sentiments.
This comes after a majority of Afghan tribal leaders opposed a strategic deal with the US which would authorize the establishment of permanent military bases in the country.
The tribal elders voted against the deal in a meeting with the Afghan president.
The remarks come hours after US President Barack Obama announced that al-Qaeda leader Osama Bin Laden had been killed in a military attack on a compound in northeastern Pakistan.
The United States accuses bin Laden of having masterminded a number of terrorist operations, including the attacks on New York and Washington on September 11, 2001.
The president in his remarks also called on the Taliban to refrain from fighting.
However, NATO says it will not leave Afghanistan, despite the US confirmation that bin Laden has been killed in a military operation.
A Press TV correspondent says Taliban militants have vowed to escalate attacks against the foreign forces in the war-ravaged country.
Militants have warned of a fresh wave of attacks against foreign troops, Afghan security forces and government officials. They say the operations will focus on military centers, places of gatherings, airbases, and military convoys.
They have also warned that Afghan government buildings will be targeted and have called on Afghan civilians to stay away from these centers.
Violence across Afghanistan hit record levels in 2010, with civilian and military casualties the worst since the start of the US-led war in 2001.