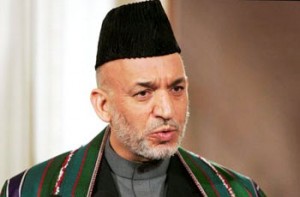 President Hamid Karzai has called on his Western allies to respect the Afghanistan's sovereignty amid the country's fight against corruption.
"We like our partners to have a lot of respect for Afghan sovereignty," Karzai said in an interview with the US Public Broadcasting Service airing Monday.
"We must all be very careful while we are partners with one another… our partnership and our advice is a friendly one and with good intentions and not one that can be interpreted any other way," Karzai added.
Western countries have been pressuring the Afghan president to address corruption in his government.
UK Premier Gordon Brown in November warned Karzai that London will not put soldiers "in harm's way for a government that does not stand up against corruption".
The Afghan leader said that he already was addressing corruption, adding Western countries are also partly responsible for the corruption in Afghanistan.
"Where we have found facts on corrupt practices by senior government officials, we have acted, they have gone to prison," he said.
Karzai went on to explain that donor countries share some of the responsibility for rampant corruption because of a poorly structured system to manage projects.
"There is no accountability of their contracts, and there is a serious corruption in the implementation of those projects. And the responsibility for this corruption is (with) the international community," Karzai said.
His remarks were made one day after the Afghan Foreign Ministry accused foreign critics of using corruption allegations to influence the makeup of the new government.
"Such instructions have violated respect for Afghanistan's national sovereignty," the ministry said.