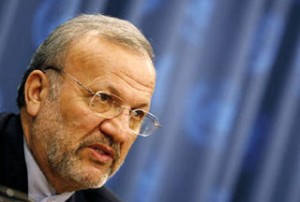 Days after the Iranian president's visit to Afghanistan, Foreign Minister Manouchehr Mottaki explains whether the trip has had an influence on the Afghan president's trip made immediately afterwards to Pakistan.
Speaking to Press TV on Friday, the Iranian foreign minister said President Mahmoud Ahmadinejad's visit to Kabul had been scheduled only days after the presidential elections in Afghanistan.
Mottaki said the visit was aimed at "congratulating Mr.[Hamid] Karzai," "reviewing relations between Tehran and Kabul, reviewing the latest situation in Afghanistan," and "holding talks on security measures."
The Iranian minister went on to explain about the trip made by President Karzai to Pakistan immediately after the departure of the Iranian delegation, saying "it is the nature of relations between countries."
Mottaki said while the visit was "not directly linked" to President Ahmadinejad's trip, it was related to a decision made during talks with the Iranian delegation about holding a trilateral summit in Islamabad.
"I think based on the negotiation between Ahmadinejad and Karzai, he will also be in contact with President Zardari," the Iranian foreign minister said.