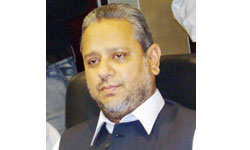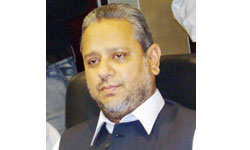 Prime Minister of Azad Kashmir Brigadier General Atiq Ahmad extended his congratulations to the Iranian nation and government on the startup of the Bushehr nuclear power plant, and stressed Tehran's right to use peaceful nuclear technology.
"I felicitate the Iranian nation on their support for their government in times of hardship and difficulties," Ahmad told FNA on Wednesday.
He also lauded the Iranian government for implementing the Bushehr nuclear power plant project, and said the Bushehr project "proved that Iran is a peace-seeking country and its nuclear program has peaceful goals".
Iran transferred nuclear fuel into its first nuclear power plant in the southern port city of Bushehr in a ceremony attended by senior Iranian and Russian nuclear officials on August 21.
Reiterating his government's full support for Iran's peaceful nuclear program, Ahmad mentioned, "If a day comes when the Kashmiri government is forced to choose between Iran and the US, it will certainly side with Tehran."
He also called on all Muslim countries to announce their full support for Iran to enter a new era of progress.
Iran and the US are at loggerheads over Tehran's nuclear program. Iran says its nuclear program is a peaceful drive to produce electricity so that the world's fourth-largest crude exporter can sell more of its oil and gas abroad and provide power to the growing number of Iranian population, whose fossil fuel would eventually run dry.
The US and its western allies allege that Iran is pursuing a nuclear weapons program while they have never presented corroborative evidence to substantiate their allegations against the Islamic Republic.
Analysts believe that Washington's opposition with Iran is mainly due to the independent and home-grown nature of Tehran's nuclear technology, which gives the Islamic Republic the potential to turn into a world power and a role model for other third-world countries.