Iran
Kazakh president in Iran to hold talks, boost relations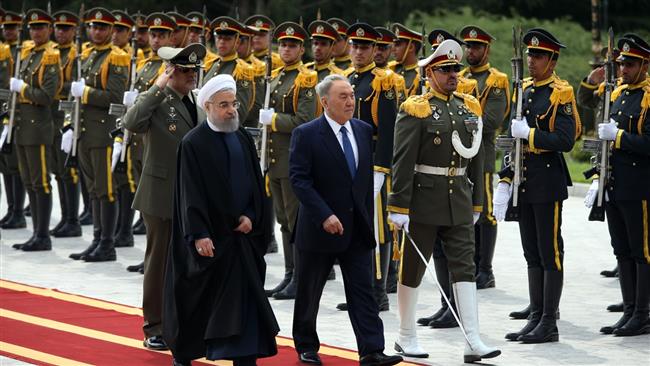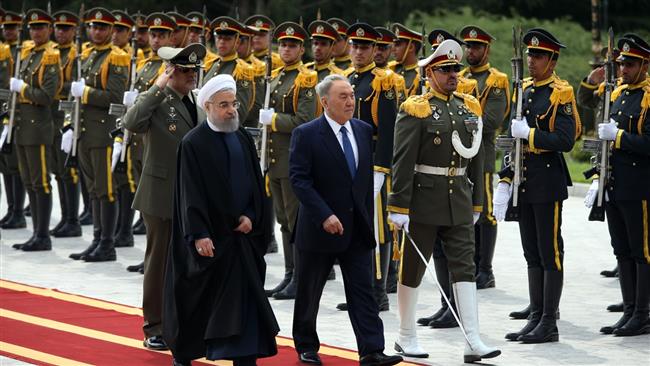 Kazakhstan's President Nursultan Nazarbayev is in Iran on an official visit to explore avenues for the further promotion of bilateral relations between the two neighboring states.
Heading a high-profile delegation, Nazarbayev arrived at Tehran's Mehrabad Airport on Monday and was greeted by Iranian Minister of Agriculture Mahmoud Hojjati.
He was later received by his Iranian counterpart Hassan Rouhani at the Saadabad cultural and historical complex in northern Tehran.
During his two-day visit, the 75-year-old Kazakh leader is scheduled to meet and exchange views with a number of high-ranking Iranian officials, including President Rouhani, on the promotion of mutual ties as well as the enhancement of regional and international security.
Rouhani and Nazarbayev penned treaties on prisoner extradition, the preservation of plants, cooperation in various areas of technology, as well as a protocol on the expansion of economic ties in the fields of industry, trade and investment on Monday.
They also signed a memorandum of understanding on a long-term plan for transportation and transit along the Silk Road, as well as on cooperation between the Central Bank of Iran (CBI) and the National Bank of Kazakhstan.
On Saturday, representatives from Iranian and Kazakh state and private sectors signed 44 memoranda of understanding worth one billion US dollars.
The accords were inked during a meeting of Iran-Kazakhstan Business Council in Tehran, where officials from 10 state-run and 34 private companies of the two countries were in attendance.