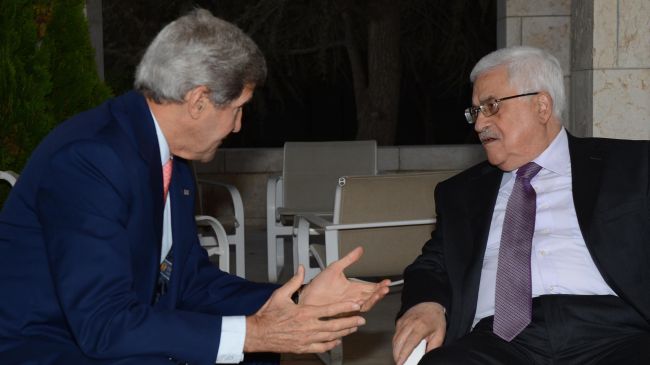 US Secretary of State John Kerry has held "informal" talks with acting Palestinian Authority (PA) chief Mahmoud Abbas in London for the first time after the US-brokered Israeli-Palestinian talks collapsed last month.
According to US officials, who spoke on condition of anonymity, Abbas and Kerry met for two hours at a luxury hotel in the British capital on Wednesday, AFP reported.
A senior official with the US State Department played down any hopes of a breakthrough in Kerry's efforts to broker a deal between the PA and the Israeli regime, saying, however, that "the door remains open" to the so-called peace process.
In late April, Gaza-based Palestinian resistance movement Hamas and the Palestinian Liberation Organization (PLO), which includes Abbas' Fatah Party, agreed to resolve their differences and form a unity government. Under the deal, the rival Palestinian factions of Hamas and Fatah are to form a unity government within five weeks and hold national elections six months later.
Angered by the unity pact, the Tel Aviv regime suspended the so-called peace talks with the PA on April 24 and threatened to impose further sanctions against Palestinians.
On April 24, Israeli Prime Minister Benjamin Netanyahu told Fox News that the negotiations with Palestinians would be "essentially dead" if the PA forges ahead with the unity deal with Hamas. The Israeli premier has also called on Abbas to "tear up" the pact with Hamas, saying Tel Aviv would not engage in talks with the PA while it has the backing of Hamas.
This is while Abbas has said the deal between Hamas and the PLO does not contradict the negotiations he is pursuing with Israel, and that an independent Palestinian state remains his goal.