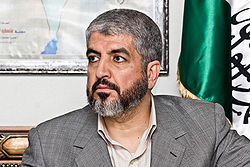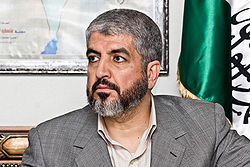 The popular revolts in Egypt and Tunisia have brought Hamas back to life, the French news agency AFP quoted the group's political chief Khaled Meshal as saying on Sunday, adding that Hamas and Fatah must join forces in a jihad against Israel.
Former Egyptian President Hosni Mubarak, who was ousted by recent popular protests last month, was seen by Hamas as aiding Israel's blockade of the Gaza Strip due to the fact that it sealed off its shared border with the coastal enclave.
Speaking in the Al-Quds International Foundation conference in Sudan on Sunday, Meshal was quoted by AFP as saying that the "people in Egypt and Tunisia have given us back our lives."
"Today we are witnessing Cairo returning to its natural state, after it disappeared from that state for a long time," Meshal said in a speech broadcasted live on Sudanese state television.
The Damascus-based Hamas political leader also referred to attempts to reconcile Hamas with its rival Fatah saying that any reconciliation between the two factions would have to be based on jihad against Israel.
"The first step [to liberating Jerusalem from Israeli occupation] is refusal to negotiate with Israel… and to establish a new, reconciled Palestinian position based on jihad," he said.
Meshal's comments came after Hamas representatives said on Saturday that the Islamist party was preparing a comprehensive initiative to end more than three years of internal Palestinian division.