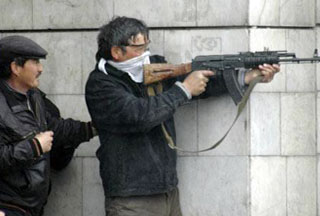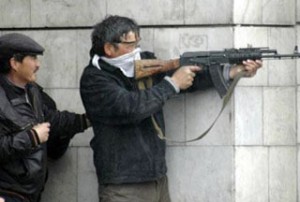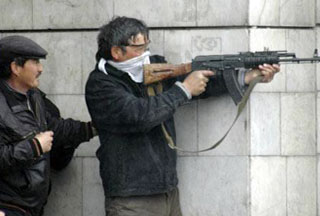 At least 40 people have been killed in clashes between riot police and anti-government protesters in the Kyrgyz capital, Bishkek, as the reports of interior minister's death were refuted.
On Wednesday, opposition activists claimed that Interior Minister Moldomusa Kongatiyev was beaten to death by a mob in the western town of Talas, where the demonstrations had stemmed from.
Later, however, it was reported that Kongatiyev was badly battered but had survived. A reporter working for Russia's Fergana Information Agency, said he witnessed as protesters brutally bruised to minister.
Health Ministry officials say 180 people were injured in riots that swept through the Central Asian nation.
"There are dozens of dead bodies, all with gunshot wounds," Akylbek Yeukebayev, a doctor at a Bishkek hospital told Reuters.
The violent protesters, numbering in the thousands, also took over the country's sate television.
Kyrgyzstan's government has declared a state of emergency.
Police fired tear gas and stun grenades to disperse some 5,000 opposition supporters marching towards the presidential offices. The demonstrations are part of nationwide rallies organized by the opposition
Some reports say that security forces fired live rounds at the protesters after failing to disperse them with stun grenades and tear gas. At least three opposition leaders have been arrested.
The demonstrators are protesting against government policies which they say have resulted in rising fuel prices and want President Kurmanbek Bakiyev to resign.