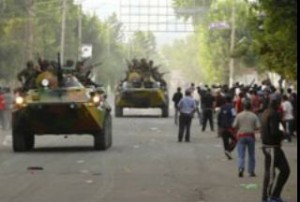 Over 100 people have been killed in clashes between the Kyrgyz and Uzbek ethnic groups as rioting engulfed new areas in the impoverished Central Asian nation.
Health officials said Sunday more than 100 people had been killed and over 1,000 wounded since the violence began in southern city of Osh on Thursday.
The violence spread quickly Sunday to Jalalabad, another major southern city, and neighboring villages, when Kyrgyz and Uzbeks mobs engaged in running street battles and set cars and buildings on fire.
Kyrgyzstan's interim government has extended a state of emergency declared across the entire southern region. Security forces have been authorized to shoot to quell the violence.
The region has been rocked by renewed deadly ethnic clashes. The political situation in Kyrgyzstan has been shaky since the revolt that overthrew former President Kurmanbek Bakiyev in April.
According to AFP, more than 32,000 ethnic Uzbek adults and thousands of children have crossed into neighboring Uzbekistan.