Iran
Lakhdar Brahimi meets with President Rouhani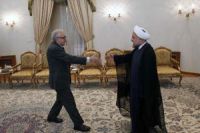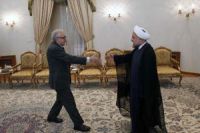 President of the Islamic Republic of Iran said Iran won't exempt any efforts to halt conflict and revive calm in Syria.
According to IRIB, Hassan Rouhani on Sunday said to the visiting UN special envoy for Syrian affairs Lakhdar Brahimi, "It is promising that different countries have come to the conclusion that the Syrian crisis has no military solution and should be solved via political ways."
Noting that there is a stronger consensus on two issues I Syria, the Islamic Republic's president added, "The first point is that approximately all sides involved in the crisis deem as unacceptable the current conditions, presence of terrorists from different countries in Syria, death of people on a daily basis, millions of homeless people and vast destruction of Syria; and believe that these conflicts will have negative impacts on the regional countries."
Rouhani said that the second issue is the general consensus on the point that the future of Syria should be determined according to the vote and view of the people in a free election with the participation of all parties.
President Rouhani stressed that the Islamic Republic of Iran is fully ready to play a positive role in different arenas for establishment of stability no matter if it is in the name of Geneva II meeting or any other move.
Lakhdar Brahimi, for his part, referred to his trip to different countries ahead of Geneva II conference saying, "The aim of this conference is to set the ground for meeting and dialogue between the two conflicting sides in Syria and ending the ongoing violence in a bid to form the "new Syria".