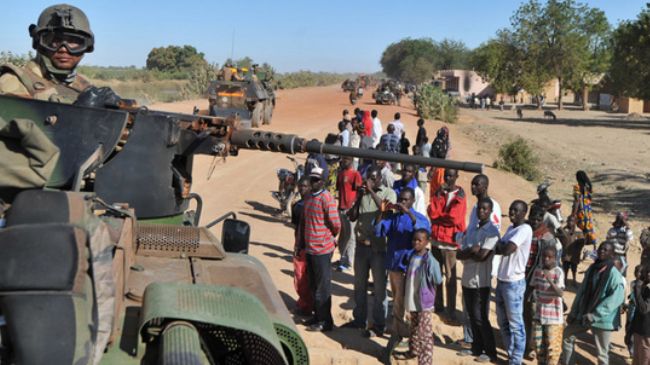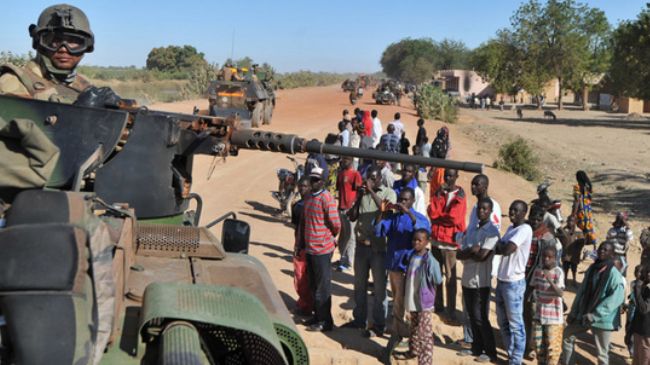 At least four civilians have been killed in a landmine explosion in northern Mali as the French-led war in the West African country entered its fourth week.
The deadly blast took place on Thursday between the central town of Douentza and the northern city of Gao, some 320 kilometers east-southeast of Timbuktu.
Reports say that a similar blast in the same region killed at least two Malian troops six days ago.
On Wednesday, France said it wanted United Nations peacekeeping forces to replace the African-led International Support Mission to Mali (AFISMA).
"From the moment that security is assured, we can envisage without changing the structures that it can be placed under the framework of UN peacekeeping operations," said French Foreign Minister Laurent Fabius.
Fabius added that the replacement could take place by April.
France launched its war on Mali on January 11 under the pretext of halting the advance of fighters in the country. The war has left thousands of Malians homeless.
On February 1, Amnesty International condemned "serious human rights breaches" including the killing of "three children" in the French war in Mali.
The rights organization said there was "evidence that at least five civilians, including three children, were killed in an airstrike" carried out by French forces against the local fighters.
Some political analysts believe that Mali's abandoned natural resources, including gold and uranium reserves, could be one of the reasons behind the French war.