Palestine
Large march in Gaza in support of Aqsa Mosque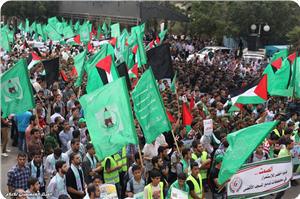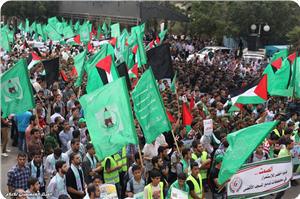 A large march was organized today by Palestinian factions in the Gaza Strip following Friday prayers in protest at Israel's violations against the Aqsa Mosque.
Senior Hamas official Ismail Radwan warned during the march that Israel's escalating threats against the Aqsa Mosque would lead to a massive explosion in the region, affirming that the Palestinian people and their resistance would never stand idly watching Israel's violations against the Mosque.
He stressed Palestinian people's readiness to defend the holy Mosque against Israel's systematic Judaization plans in light of Arab countries' preoccupation with internal issues.
"We will sacrifice our lives and homes for the sake of the Aqsa Mosque," he said.
Radwan called on Palestinians, especially those who live in the occupied territories of the West Bank, Jerusalem and the 1948 lands to intensify their presence at the Aqsa mosque.
"The Aqsa Mosque is a red line. Israel must be aware that the ongoing raids and attacks on the Mosque will cause a volcanic explosion in the region that will reach Israel," he said.
The Hamas leader also called on the PA to stop its security coordination with Israel and urged the Palestinian unity government to take action curbing Israel's persistent violation of the Aqsa Mosque's sanctity.
He stressed the need for an Arab, Islamic, and international intervention to protect occupied Jerusalem and the Aqsa Mosque.
Radwan called on PA chairman Mahmoud Abbas to sign Rome Statute in order to hold Israeli leader accountable for their crimes committed against the Palestinian people.
Thousands participated in the march that was organized in response to the Israeli recent escalation against the Aqsa Mosque.