Syria
Large Number of Al-Nusra, Ahrar al-Sham Militants Killed in Northern, Eastern Homs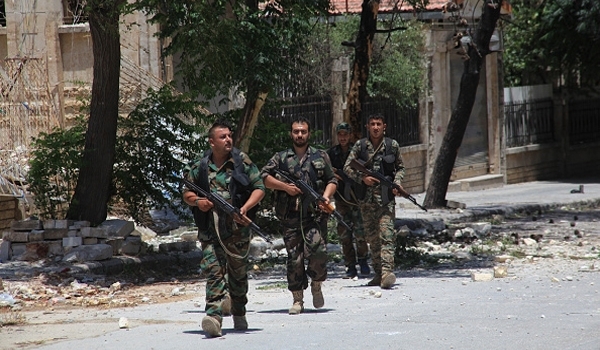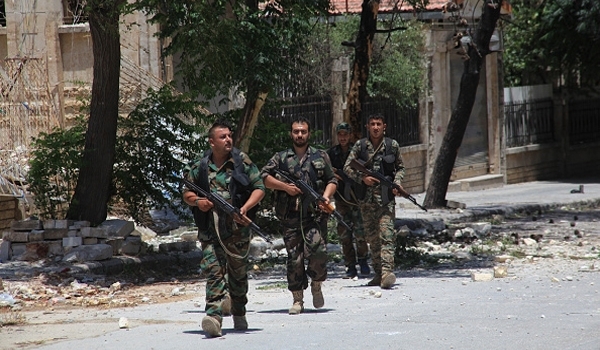 The Syrian army units, supported by their allies, killed tens of al-Nusra Front and Ahrar al-Sham terrorists, including their commanders and snipers, in al-Rastan, 20km of Northern Homs.
The army troops' precision missile strikes targeted the terrorists' dens and gathering centers in Rastan, and killed and wounded dozens of them.
Among the commanders of al-Nusra Front was Amin Samir al-Ruz, nom de guerre Abi Malik who was killed in Rastan along with his 8-member group.
The Syrian army units also killed ISIL terrorists and destroyed their vehicles, equipped with heavy machineguns North al-Awameed hill and West al-Khanzeer Mountain, Southeast of Quaryatayn in the Eastern parts of Homs province.
In a relevant development on Wednesday, the Syrian Air Force bombed ISIL's positions in Unq al-Hawa and Wadi al-Mesk in Jubb al-Jarrah, claiming the lives of several militants and destroying their machinegun-equipped vehicles and rocket launching pads.
Also, on Tuesday, the Syrian fighter jets carried out several combat flights over ISIL's concentration centers near three energy-rich regions, inflicting major losses on the Takfiri terrorists' sites and military vehicles.
ISIL's sites and military vehicles, loaded with ammunition, were targeted by the Syrian army aircraft in al-Sha'er and Jazal oilfields and near the town of Khneifes.
ISIL also suffered a heavy death toll in the raids.