Syria
Larijani echoes warning on Syria war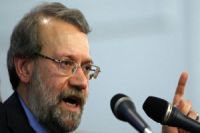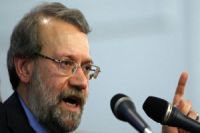 Iran Majlis Speaker Ali Larijani has reiterated that a US military move in Syria will expand the country's crisis which would be then very difficult to contain.
Larijani said in the northern city of Nowshahr on Tuesday, "The only solution to the Syria issue is political one, but it is evident that certain countries in the Middle East region are trying to lead it into a stalemate and the Americans think that a military attack [against Syria] will boost their prestige".
He regretted US persistent efforts to incite chaos in the region and then resort to "certain regional dealers" to contain the resulting turmoil, adding that a US attack on Syria will further complicate such issues.
Larijani also played down Western claims of reforms and democracy in Syria, saying, "No one is against reforms, but the kind of reforms carried out by terrorists will in no way be acceptable."
Larijani said, "The Western governments must be held accountable about who supplied the chemical weapons to the terrorists in Syria. The countries playing with weapons of mass destruction must that terrorists will also use them."
He added, "Our country is opposed to any weapons of mass destruction and considers them dangerous for the world".