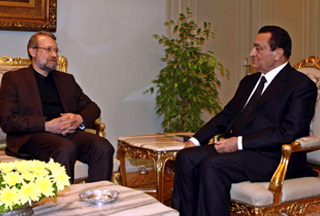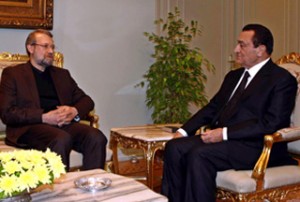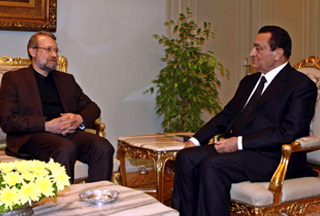 Iran's Parliament Speaker Ali Larijani has held "constructive" talks with Egyptian President Hosny Mubarak in Cairo.
Larijani is in Cairo to take part in a committee meeting for the Parliamentary Union of the OIC Member States (PUIC), which include Iran, Turkey, Kuwait, Niger, Azerbaijan, Uganda, and Egypt.
"The two countries' vision on bilateral relations is positive, which is key to the development of the relationship between them," Larijani told reporters after his meeting with Mubarak and Egyptian parliament speaker Ahmed Fathi Surur.
Speaking after the meeting, Larijani said the talks on relations between Iran and Egypt were "constructive", adding that the two officials also touched on regional matters of mutual concern.
Iran has had no official diplomatic relations with Egypt since 1980. Tehran was critical of Cairo's peace treaty with Israel.
This was the first high-level talks between the two countries since relations were further strained during the Israeli offensive on the Gaza Strip in December 2008-January 2009.
Tehran criticized Egypt during the war for its refusal to open the Rafah border crossing, which is used to bring food and other humanitarian aid to the enclave.
Larijani said Iran backs the Palestinian Hamas movement and Hezbollah in Lebanon as both of them "stood up to Israel."
He further stressed that Tehran "supports and encourages Egyptian efforts for Palestinian reconciliation."