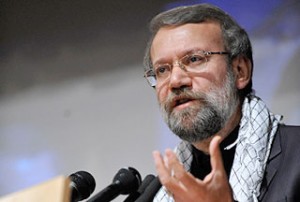 Iran's parliament speaker says the International Atomic Energy Agency (IAEA) is under the influence of certain western countries.
"Unfortunately the International Atomic Energy Agency is under the influence of some Western countries," Ali Larijani said on Monday.
He says these countries are trying to make problem in development of Iran's civilian nuclear drive.
Larijani referred to the UN watchdog's latest report on Iran's nuclear energy program and described it as biased, calling on the IAEA to act independently.
On Thursday, the IAEA released another two-sided report on Tehran's enrichment program, criticizing Iran for a range of issues, but verifying the non-diversion of declared nuclear material in the country at the same time.
Iran's envoy to the UN atomic watchdog said the concern expressed in the Agency's latest report is "groundless," as it is not based on any new information.
"It seems that unsubstantiated allegations that certain countries had previously made about Iran have once again been introduced in this report," Tehran's Ambassador to the IAEA, Ali Asghar Soltanieh, told ISNA on Friday.
"Issues pertaining to the 'alleged studies, missiles and explosives' are worn-out topics, which have already been dismissed in ElBaradei's reports. They are not anything new," he added.
Referring to the assassination of a Hamas official in Dubai last month, Larijani accused western powers of supporting what he described Zionist massacre in the region.
Dubai police released photos and information of eleven European passport holders, who murdered Hamas commander Mahmud al-Mabhouh in his hotel room on January 20.
The suspects were allegedly Mossad agents that used British, Irish, French, and German passports, Dubai police said.
Larijani made the comments as he was heading to Japan for a five-day visit. He said the visit will boost ties between Tehran and Tokyo in different fields.