Syria
Larijani: Iran Spares No Efforts to Establish Peace, Stability in Syria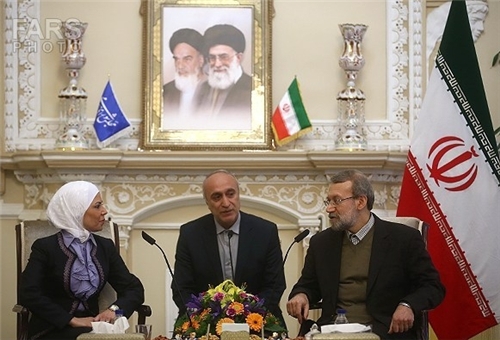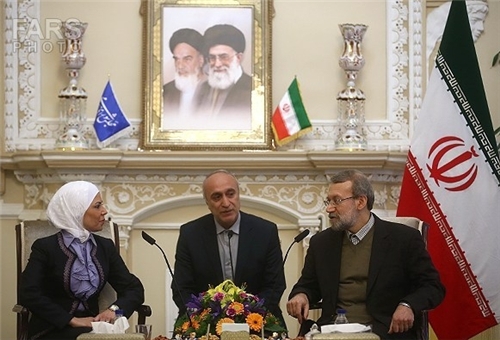 Iranian Parliament Speaker Ali Larijani in a meeting with Syrian Minister for Social Affairs Kinda Foad al-Shamat underlined Tehran's continued support for the establishment of peace and stability in Syria.
"The Islamic Republic of Iran always supports the establishment of peace and stability in Syria and spares no efforts to create tranquility and security in the country," Larijani said during the meeting in Tehran on Tuesday afternoon.
He also stressed that the crisis in Syria should be settled by the Syrian people and national groups, and interference of foreign parties in this process will spread war in the country.
Foad al-Shamat, for her part, appreciated Iran for its support and aids to the Syrian people, and said, "The world powers, the Zionist regime and certain regional states are seeking to annihilate the Syrian nation and government by supporting the terrorist groups but the Syrian people will defend their national identity and territorial integrity through resistance."
Iranian officials have repeatedly underlined that Tehran is in favor of negotiations between the Syrian government and opposition groups to create stability in the Middle Eastern country.
Last November, Iran hosted a meeting between the representatives of the Syrian government and opposition to encourage them to start talks to find a political solution to their problems. The National Dialogue Conference kicked off work in Tehran mid November with the motto of 'No to Violence, Yes to Democracy".
The meeting brought together almost 200 representatives of various Syrian ethnicities, political groups, minorities, the opposition, and state officials.
The conflict in Syria started in March 2011, when sporadic pro-reform protests turned into a massive insurgency following the intervention of western and regional states.
The unrest, which took in terrorist groups from across Europe, the Middle-East and North Africa, has transpired as one of the bloodiest conflicts in recent history.
As the foreign-backed insurgency in Syria continues without an end in sight, the US government has boosted its political and military support to Takfiri extremists.
Washington has remained indifferent to warnings by Russia and other world powers about the consequences of arming militant groups.