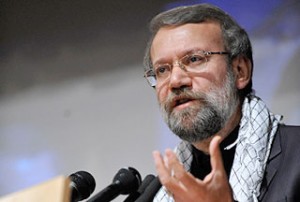 Iran's Parliament Speaker Ali Larijani has blasted those who participated in Sunday's violent protests for "violating civil rights."
"Who do you think you are that you violate the rights of the people? The public have the right to ask the judiciary to punish you," said Larijani in Khorasan-Razavi Province on Thursday.
"The people and clerical community should rest assured that by showing up [to condemn the Sunday protests], they have compelled the relevant authorities to take action against the elements of Fitna (anarchy)," he added.
Larijani's comments came a day after people across Iran took to the streets to condemn the "desecration of Ashura" at the hands of anti-government protestors two days earlier.
Protesters took to some central and downtown streets in Tehran on Sunday, hijacking the Ashura ceremonies, during which people commemorate the 7th century martyrdom of the Prophet Muhammad's (PBUH) grandson, Imam Hussein (PBUH).
According to police reports, Sunday's disturbances left at least seven people dead. A number of rioters have been arrested.
During his Thursday comments, Larijani also called for "calm, stability and brotherhood between the country's political movements."