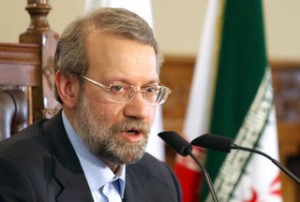 Palestinian rights take center stage in a series of meetings between Iran's Parliament speaker and world figures on the eve of an emergency summit in Turkey.
Determined not to let the sufferings of the Palestinian people sink further into depths of collective memory, Ali Larijani urged the creation of a united front against Israel's systematic violation of Palestinian rights.
In a meeting with Turkish President Abdullah Gul on Sunday night, Larijani lauded Turkey for taking a firm line against Tel Aviv and its recent actions towards the original Palestinian populace of the territory.
He hoped that the second meeting of the Parliamentary Union of the Organization of the Islamic Conference (OIC), which is due to kick off on Monday, will provide a solution to the illegal settlement projects undertaken by Israel in al-Quds (East Jerusalem).
"We hope the conference would provide a strong message of support for Palestinians and their rights," IRNA quoted Larijani as saying.
Larijani also met his Turkish counterpart Mehmet Ali Sahin, with whom he discussed recent developments in the Israeli-Palestinian conflict.
"We applaud Turkey's approach towards key issues in the region, particularly in Palestine. We believe that the strong stance adopted by Turkey is a testament to its momentous status in the Muslim world," Larijani told Sahin.
During the meetings, Larijani reiterated that Iran's nuclear activities has always been, and will continue to be, "entirely peaceful."
He also praised Turkey's role as a vociferous advocate of diplomacy as the only solution to the international impasse on Iran's uranium enrichment.
Founded in 1969, OIC is comprised of 57 member states from the Middle East, Africa, Central Asia, the Caucasus, the Balkans and South America.
The Parliamentary Union of the OIC member states was launched in Iran in 1999.