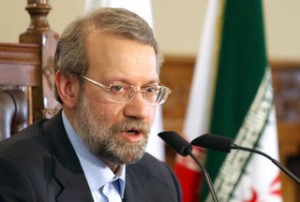 Following the imposition of a new round of sanctions on Iran, the country's Parliament Speaker Ali Larijani criticizes the US for its deceitful approach in dealing with Iran' s nuclear issue.
Addressing lawmakers on Sunday morning, Larijani said the US has been dishonest in its pursuit of talks between Brazil, Turkey and Iran on a possible nuclear fuel swap.
"The US has been following the issue of nuclear fuel swap for a long time, regarding which it sent a letter to the Brazilian president and Turkish prime minister asking for their mediation in the matter. The US was trying to make us believe that such discussions were in the framework of [diplomatic] interaction," Larijani said.
The Iranian Majlis speaker went on to criticize officials in Washington for having a sudden change of heart as a result of which they made a push for a new sanctions resolution at the UN Security Council (UNSC) against Iran.
The remarks come as earlier on Wednesday, twelve Security Council member states, including Russia and China, voted on a US-proposed resolution for a fourth round of sanctions against Iran. Brazil and Turkey voted against the resolution while Lebanon abstained from voting.
The sanctions were imposed after Iran issued a declaration on May 17 under which it expressed willingness to send some 1,200 kg of its low-enriched uranium to Turkey in exchange for a total of 120 kg of higher enriched uranium to be used in its Tehran Research Reactor, which produces medical isotopes for cancer patients.
The declaration received a warm welcome from different heads of states and international organizations, including UN Secretary General Ban Ki-moon.
Meanwhile, Larijani said Tehran's declaration came as proof of Iran's willingness to resolve the long-standing nuclear issue, adding that Washington cannot be trusted in its claims of diplomatic engagement.