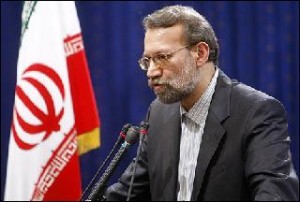 Iran's Parliament Speaker Ali Larijani says the country is ready to provide substantial evidence of direct US backing and involvement in Pakistani terrorism.
Iranian investigations following the capture of Abdolmalek Rigi, the rindleader of the Jundallah terrorist grouping, have uncovered evidence of direct US support for terrorism in the region. Iran is prepared to share its findings with Pakistan if necessary.
The top parliamentarian made the remarks during a meeting with his Pakistani counterpart in Istanbul on the sidelines of the Organization of the Islamic Conference meeting there.
Larijani also pointed out that the US government is pursuing a policy of double standards in international issues, namely its support for terrorist groups in Iraq and Afghanistan.
The Iranian Parliament Speaker expressed Iran's determination in expanding bilateral ties with Pakistan. He also stated that bilateral negotiations would help in establishing common ground on issues concerning the two countries as well as the region as a whole. He added that the two nations are moving in a similar direction and called for more economic cooperation in projects such as the successful gas transfer project from Iran to Pakistan.