World News
Latest on pandemic: Countries move to impose new restrictions as cases surge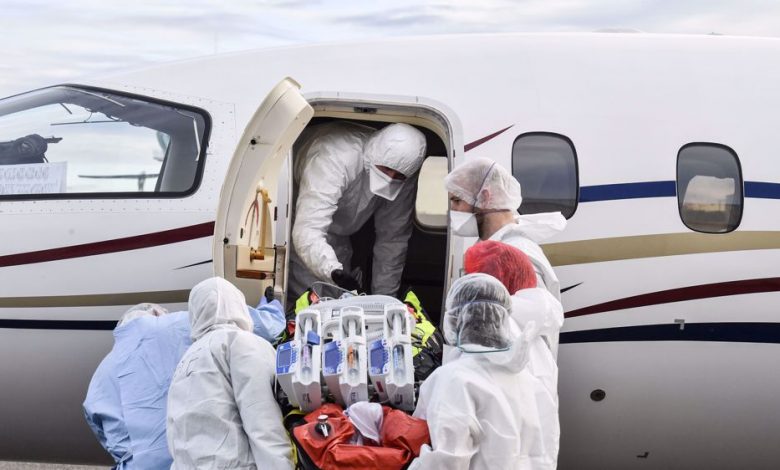 The number of people who have been afflicted with COVID-19 has now passed 44 million around the world, and the number of related fatalities is almost 1.16 million, according to data compiled by Johns Hopkins University.
The new coronavirus disease, which emerged in December last year, has so far afflicted 44,000,315 people and killed 1,167,634 others.
The United States, Brazil, India, and Russia are the hardest-hit countries worldwide.
Some countries that had brought the viral outbreak relatively under control earlier are now witnessing a resurgence of infections.
Many countries around the world have started to impose new lockdown restrictions in an attempt to curb the spread of the disease, as new cases and deaths continue to rise.
Many people are also protesting coronavirus-related restrictions, as more countries move to tighten social distancing rules.
Coronavirus cases hit all-time high weekly rate of over 2.8 million: WHO
The World Health Organization (WHO) says the number of coronavirus cases worldwide has increased by more than 2.8 million in the past week, the biggest number for a seven-day period ever recorded.
The WHO said on Tuesday that as of October 25, it had been informed about more than 42 million cases worldwide and over 1.1 million deaths.
Over 2.8 million new cases and over 40,000 new deaths were registered in the past week, the global organization added.
Europe posted the highest growth, recording over 1.33 million new cases in the reported period. As of October 25, the region had some 9.66 confirmed cases and over 271,000 deaths.
The situation also remains difficult in North and South America, with over 884,000 new cases and almost 17,000 deaths registered in the reported period. Overall, the region has 19.7 million cases of the infection and almost 626,000 deaths.
Some 445,000 people contracted the illness in Southeast Asia in the past seven days, and the overall case count is now nearing 8.97 million. The death toll has topped 140,000, including 5,700 fatalities registered in the past week.
In the reported period, the number of coronavirus cases increased by over 436,000 in the United States, by over 370,000 in India, and by more than 153,000 in Brazil.
The following is the latest on the pandemic from around the globe:
France must accept new national lockdown: Expert
France has to accept a new, national lockdown to tackle a resurgence of the COVID-19 contagion, says a leading member of Georges-Pompidou Hospital in the capital, Paris.
"We must take it up," Professor Philippe Juvin told RTL radio on Wednesday, referring to a new inclusive lockdown.
French President Emmanuel Macron is scheduled to give a televised address to the nation on Wednesday evening, as the French outbreak continues to worsen.
France reported 523 new deaths from COVID-19 over the past 24 hours, and 33,417 new confirmed cases, despite imposing a night-time curfew on major cities, including Paris, two weeks ago.
Macron's government has been exploring a new, national lockdown from midnight on Thursday, a slightly more flexible one than the two-month shutdown that began in mid-March.
Schools could remain open even as restrictions on people's movements become more severe.
France has registered a total of 35,541 deaths from COVID-19 and 1,198,695 confirmed cases.
Merkel to close bars, gyms, restaurants to halt virus spread: Report
German Chancellor Angela Merkel has decided to close all entertainment centers in the country from November 4 in a bid to curb coronavirus infections, a draft resolution seen by Reuters showed.
If the leaders of Germany's 16 states agree to the draft during a telephone conference later on Wednesday, fitness studios, discos, and cinemas will close along with theaters, opera houses, and concert venues.
Shops would be allowed to remain open if they implemented hygiene measures and limited customer numbers, while restaurants would only be allowed to offer takeaways.
Schools and nurseries will remain open.
Under the new restrictions, people would only be able to go out in public with members of their own household and one other household, according to the resolution. It said people would be punished if they broke the rule, but did not give further details.
Germany, widely praised for keeping its infection rate well below other major powers in the initial phase of the crisis, now faces a faster-than-expected surge in cases, with the latest data from Tuesday showing cases having increased by 11,409 to 449,275.
The German government has so far been keen to avoid a second national lockdown after an initial shutdown earlier this year hit economic growth hard.
The draft said the federal government wanted to provide financial aid to firms affected by closures, adding that a concept for this would be presented on Wednesday.
If agreed, the measures would apply nationwide until the end of November, with leaders meeting two weeks after implementation to consult on whether adjustments are necessary.
Thailand extends emergency decree to curb coronavirus
Thailand has decided to extend a state of emergency until the end of November in an attempt to prevent a further spread of the new coronavirus disease.
An unnamed government spokesman said on Wednesday that the country would maintain the security measure put in place in late March to contain its coronavirus outbreak.
Thailand has confirmed only 3,759 coronavirus infections, with most recent cases having been imported. There have been 59 deaths.
Canada's Trudeau predicts 'tough winter,' deaths top 10,000
Canadian Prime Minister Justin Trudeau has predicted a "tough winter" in the face of a second wave of COVID-19 infections engulfing much of the country, calling it a horrific national tragedy as deaths topped the 10,000 mark.
"This sucks. It really, really does," Trudeau told a news conference on Tuesday, when asked about the fatigue Canadians feel after living with the pandemic for more than seven months.
"What we are living through is a horrific national tragedy. Families have lost loved ones, been devastated by these tragedies, and we need to know that there are more tragedies to come," the Canadian prime minister said.
But he also said things would get better and that the federal government would be there to help out, while urging Canadians to do their part to limit the spread of the disease.
"It's going to be a tough winter," Trudeau said, but "spring and summer will come and they will be better."
Canada's caseload has been rising, triggering new restrictions on public gatherings and indoor activities in several provinces. On Tuesday, Canada recorded 2,674 new cases, while there are now 10,001 deaths and a total of 222,887 infections.
Russia documents record high 346 deaths from COVID-19
Russia has documented 346 deaths from COVID-19 in the past 24 hours, which is a record daily high since the start of the pandemic.
This brought the country's total death toll to 26,935. Russia's coronavirus crisis center said on Wednesday that 320 deaths had been confirmed the day before.
Currently, 365,740 people are undergoing treatment for the coronavirus disease in Russia.
US reports over 73,000 new cases, nearly 1,000 deaths
The United States identified 73,240 new cases of COVID-19 on Tuesday, nearly 6,500 more than the previous day.
An additional 985 fatalities from COVID-19 were also registered nationwide on Tuesday, more than double the previous day's count but still down from a peak of 2,666 new deaths in mid-April.
A total of 8,779,653 people in the United States have been diagnosed with COVID-19 since the pandemic began, and at least 226,723 of them have died, according to Johns Hopkins.