Syria
Latest victory of Syrian army achieved in Yabroud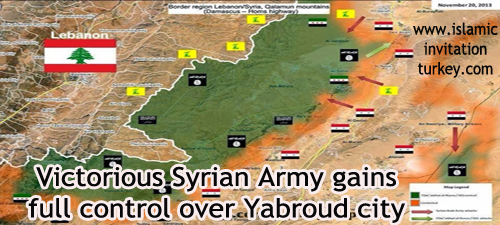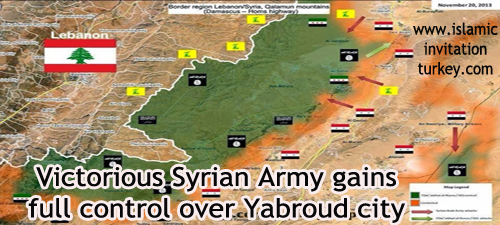 The Syrian army has retaken control over the key town of Yabroud from the militants in Syria, just as the conflict in the Arab country enters its third year.
Yabroud was the last stronghold of the foreign-backed militants in the strategic region of Qalamoun, which is located near the Lebanese border.
Almost ten thousand militants have been driven out of the city, with about a thousand more having fled to Lebanon.
A large number of the foreign-backed militants, including a commander of the al-Qaeda-linked al-Nusrah Front, were killed in the operation, which was jointly carried out by the Syrian army and Hezbollah fighters.
Capturing Yabroud would help the government and Hezbollah fighters secure the land route linking its Mediterranean coastal stronghold with the capital and choke off the militants' cross-border supply line.
The Western and regional supporters of the militants have acknowledged that the Syrian army has made gains in its battle against the militants in various parts of the country.
Syrian government forces have been fighting the militants in the Qalamoun region for months. The army has already pushed the militants out of other parts of Qalamoun.
Military observers say retaking Yabroud will have direct effects on Lebanese security, given that a string of bomb blasts are carried out in Lebanon by the Takfiri groups coming from inside Syria.