Syria
LATEST VIDEO: After ISIS Ouster, Syria's Manbij Bustles back into Life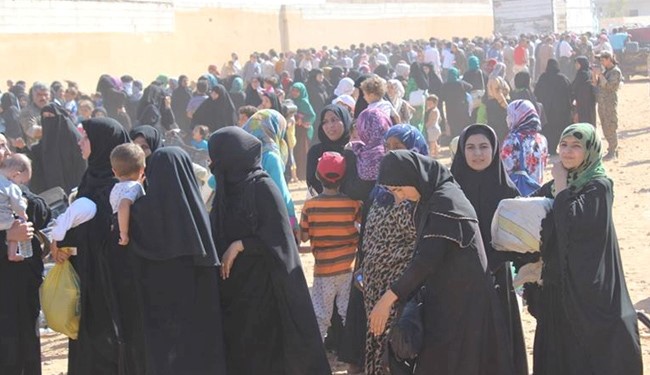 Thousands of displaced residents streamed back into the northern Syrian town of Manbij on Saturday after US-backed fighters ousted the last Islamic State (ISIS / Daesh / ISIL / IS) militants from their former stronghold, residents and US allies said.
The US-backed Syria Democratic Forces (SDF) announced on Friday (August 12) they had seized full control of the city near the Turkish border after the departure of the last of the militants, who had been using civilians as human shields.
SDF forces were seen dancing out of jubilation after they drove ISIS militant out of the city.
They have been searching for mines, which had been planted in the residential areas and injured many civilians, and the possibility of sleeper cells.
The remaining militants fled to Jarabulus, which is under the control of ISIS and it is located on the Turkish borders, taking with them around 2,000 civilians by force to avoid the strikes of the international coalition.
However, after the ISIS members arrived in Jarabulus, a number of civilians managed to return to Manbij. Smiling civilians on Manbij on Friday and Saturday were making victory gestures and carrying out small acts of defiance, unthinkable under the rigors of Islamic State (ISIS / Daesh / ISIL / IS) rule.
One woman trampled on her abaya, the Arab gown, while a girl described life under Islamic State (ISIS / Daesh / ISIL / IS).
"Two of my cousins, one was killed and the other one, thank God, returned but he lost his eye. My brother Zaid died; my brother Zaid passed away. They dressed my aunt in black and everyone got bored of the black including the abaya, gloves and socks, everything and I cannot understand anything and they took her covered into the prison. May God hold them to account. Bread and water are in turn," Hasnah Abdullah said.
Other civilians could be seen clearly in a state of distress.
The town bustled trucks bringing in supplies and civilian could be seen carrying foodstuffs.
The Manbij operation in which US Special Forces have played a significant role on the ground marks the most ambitious advance by a group allied to Washington in Syria since the United States launched its military campaign against Islamic State (ISIS / Daesh / ISIL / IS)  two years ago.
Manbij's loss to the militants is a big blow as it is of strategic importance, serving as a conduit for transit of foreign jihadists and provisions coming from the Turkish border.