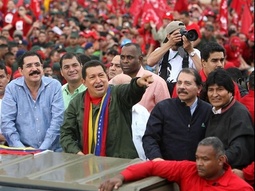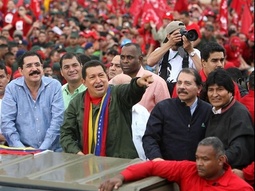 Few hours after Caracas announced the death of its President, Hugo Chavez, Latin American leaders mourned the leftist leader, saying they were 'in pain'.
Allies across Latin America lined up to salute Chavez, with Cuba leading the plaudits to a man hailed as a "true son" to the communist nation's retired 86-year-old revolutionary icon Fidel Castro.
Cuban officials declared three days of national mourning in honor of the country's closest
In a statement broadcast on state television, the Cuban government said Chavez had "stood by Fidel like a true son" during his presidency.
Brazilian President Dilma Rousseff described Chavez as a "great Latin American."
"We recognize a great leader, an irreparable loss and above all a friend of Brazil, a friend of the Brazilian people," Rousseff said.
Bolivia's socialist President Evo Morales — whose political priorities and style of leadership have drawn deeply from Chavez — said he was "crushed" by his friend's death and would soon travel to Venezuela.
"We are in pain," Morales added.
Ecuadoran President Rafael Correa, another close ally, said Chavez's death was an "irreparable loss" for Latin America.
Nicaraguan leader Daniel Ortega, heavily reliant on aid from oil-rich Venezuela, vowed to continue "waging the battles" of Chavez.
In Argentina, Vice President Amado Boudou said on Twitter that "all of Latin America" was in mourning.
"One of the best has left us: you will always be with us, Comandante," Boudou said. Argentina's President Cristina Kirchner is to travel to Venezuela for Chavez's memorial service.
Colombian President Juan Manuel Santos echoed Correa's sentiments, saying Chavez's death was "a great loss for Venezuela and the region, for Colombia and for me personally."
Uruguay's President Jose Mujica, a leftist and close friend of Chavez, issued a heartfelt tribute.
"You are always saddened by a death," said the 77-year-old, who confirmed he will travel to Venezuela to pay his respects.
"But when you are talking about someone who has fought on the front line, and about someone who I remember I once called 'the most generous leader I have met,' well the pain takes on a whole new dimension."
Chilean President Sebastian Pinera, a conservative billionaire, called Chavez a leader who was "deeply committed to Latin America's integration."
Mexican President Enrique Pena Nieto also offered "deep condolences."