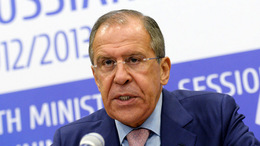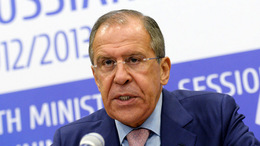 Russian Foreign Minister Sergey Lavrov rejected Sunday to hold dialogue with the terrorist groups fighting against the Syrian army on ground.
"A dialogue with terrorist groups fighting in Syria will not be held under any circumstance," he said.
"We refuse holding a dialogue with terrorist groups, it is against our principles, and we didn't advice others to do that," Lavrov told the Russian NTV channel in an interview.
"The negotiation process has no room for groups like Jabhat al-Nusra (al-Nusra Front), the Islamic State of Iraq and al-Sham (ISIS) and other branches of al-Qaeda organization," added.
"Finding a solution for the humanitarian crisis in Syria will be sure to promote confidence in the Geneva II negotiations," the Russian minister concluded.
Lavrov reminded of the British Prime Minister's suggestion in G8 Summit held in North Ireland in June, 2013 in call for addressing the Syrian Government and the opposition for cooperation to eradicate terrorism from the country.
He clarified that eradicating terrorism is gaining more interest on the list of priorities, taking into consideration the scale of the terrorist threat in Syria which reached Iraq, as terrorists of the so-called "the Islamic State of Iraq and al-Sham" are launching terrorist attacks in the country.
Lavrov added that reaching a political accord between the government and the national secular opposition, in addition to helping them unite in the face of terrorism in parallel to the political settlement is the aspired goal.
"Many inquiries are supposed to be directed to 'the Islamic Front' which has been founded recently combining two or three groups involved in Adra massacre, so it is hard to be conceived as part of peace talks," the Russian foreign Minister said adding "we should not say that it is possible to negotiate with gunmen just because they moved to 'the Islamic Front'."
Lavrov expressed conviction that settling humanitarian issues would consolidate trust between the Syrian parties through the ongoing negotiations in Geneva.