Imam Ali Khamenei
Iran
Leaders of Ummah
Middle East
Leader appoints Hojjatolesm Marvi as new custodian of Imam Reza shrine
Leader of the Islamic ummah and Oppressed Imam Ayatollah Seyyed Ali Khamenei has appointed a new custodian for the Astan Quds Razavi, an organization that manages the holy shrine of Imam Reza, the eighth Shia Imam, and related institutions in the city of Mashhad.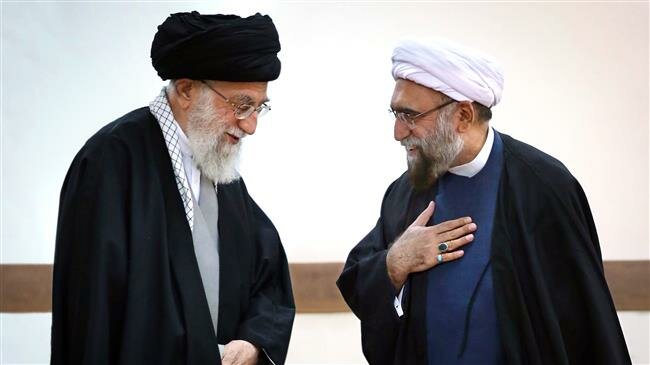 In a decree released on Thursday, Ayatollah Khamenei said Hojjatoleslam Sheikh Ahmad Marvi would replace Hojjatolesm Seyyed Ebrahim Raeisi as head of the Astan Quds Razavi.
The Leader offered the new custodian a list of guidelines for the post, calling on the cleric to do his utmost to serve the pilgrims of Imam Reza and provide assistance to the needy.
Before being appointed as the custodian of Astan Quds Razavi, Marvi was in charge of a department at the Leader's Office responsible for contacts and communications with religious seminaries.
The Astan Quds Razavi is officially a charitable foundation, which is autonomous in the set-up and budget but functions within the framework of general government policies.
It relies on endowments as its main source of income and serves as a major player in the economy of Mashhad, Iran's second most-populous city, which hosts millions of Shia pilgrims from across the world every year.
There are more than 70 institutions affiliated to the Astan Quds Razavi, whose central organization currently has around 18,000 staff members, according to its official website.
The Leader's assignment came after Hojjatoleslam Raeisi was appointed by Ayatollah Khamenei as head of Iran's Judiciary.
Leader appoints Iran's new Judiciary chiefAyatollah Khamenei appoints veteran judicial official Ebrahim Raeisi as new head of the Judiciary.
The veteran judicial official had himself replaced senior cleric Ayatollah Abbas Vaez Tabasi, the first and longest-serving custodian of the Astan Quds Razavi so far since the 1979 Islamic Revolution.
Ayatollah Tabasi passed away in March 2016 at the age of 80.