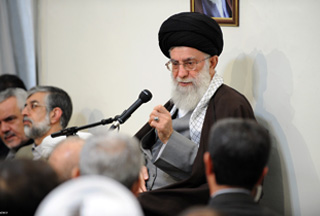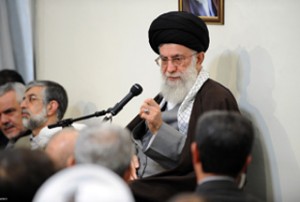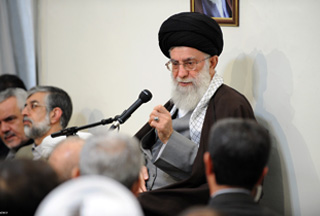 Leader of the Islamic Ummah and Opressed People Imam Seyyed Ali Khamenei said Monday the three branches of the government should remain united in making key decision about Iran's future.
In a meeting with high-ranking members of the Islamic system, the Leader said all elements of the government should work together in order to assist the Ahmadinejad administration in providing people with service.
"In the current situation, faced the fifth development plan, the officials are dealing with many obligations, which requires coordination and harmony," Imam Ali Khamenei said.
The remarks came as the Parliament (Majlis) and the government are moving to iron out the details of the subsidy reform plan approved by the lawmakers.
Imam Ali Khamenei said "harmony" and "unity" can be achieved even at a time, when there are different views on a subject.
"The meaning of harmony amongst officials is not overlooking different tastes; [as they] along with scientific and expertly discussions pave the way for progress," the Leader said. "But these different views should not result in impeding the progress or sidetracking from its path."
On the subsidy bill, Imam Ali Khamenei asked the Parliament and the government to remove obstacles in the way of implementing the plan.
The officials of the Islamic establishment should realize their important responsibility, the Leader said. "We should act in a way that we can answer before God for our actions."