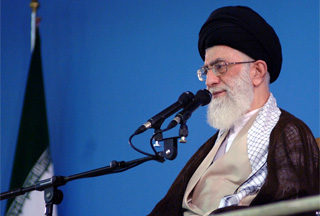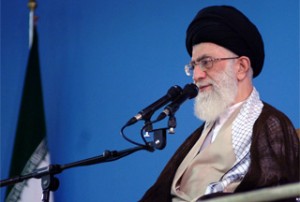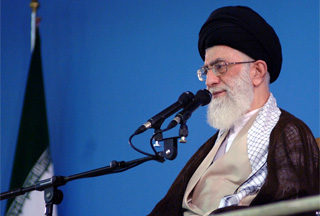 The Leader of the Islamic Ummah and Opressed People said Tuesday the Organization of the Islamic Conference (OIC) should focus on its primary objective of defending the Palestinians as a Zionist plot to drive them out of their homes unravels.
In a meeting with government officials and prominent scientific and political figures, Imam Seyyed Ali Khamenei said recent developments in the occupied Palestinian lands reflect the signs of a "dangerous plot" by Tel Aviv against the Palestinians.
"De-Islamisation of Islamic works, incidents at Ibrahimic Mosque and the driving of Muslims out of their homes are a dangerous plot which is unfolding before the eyes of a Muslim world that has been engaged with trivial matters," the Leader said.
The remarks come at a time when the Israeli regime has stepped up a campaign to expand illegal settlements in the occupied Palestinian lands in defiance of international opposition and UN Security Council resolutions.
Moreover, Israeli forces in recent months have shut down the al-Aqsa mosque to Palestinian worshippers and damaged Islamic properties on the site, attacking, killing and arresting protesters.
Imam Ali Khamenei said the OIC should make serious efforts to unite Muslims against Israel.
"[Thus], the Organization of the Islamic Conference, which was essentially established to uphold the rights of the Palestinians, should fulfill its duty in defending Palestine and uniting the Muslim world against the mischievous moves of the Zionists," the Leader said.
Imam Ali Khamenei described the potentials of the Muslim world in countering "the evil acts and greediness of the Zionists" as very high, reiterating that the strength of the Muslim world is not limited to oil. "Rather, the Muslims possess the biggest market for consumer goods, as well as the world's most vital routes and pathways."
He said the Muslim world can achieve its "rightful aspirations" by merely sticking to reason and sound political interactions in the world.